Welcome to the Tweeddale Rideability Group's website. The Tweeddale Group was formed in 1984 to offer riding to those living in the Tweeddale area who would benefit from the therapy, achievement and enjoyment this sport provides. In 2016 the Group changed to the status of a Scottish Charitable Incorporated Organisation and, as part of the process, it was decided to emphasise the positive approach of the Group with a new name - the Tweeddale Rideability Group SCIO. The Group remains a member group of the Riding for the Disabled Association and continues to operate under its governance, but the new name brings a modern feel to our charity where everyone has the opportunity to achieve ambitions and develop life skills.
AUTUMN 2023 We're now into the autumn term, you can find the dates for the autumn term riding sessions on the What's On page.
REGGIE: TRG's Horse of the Year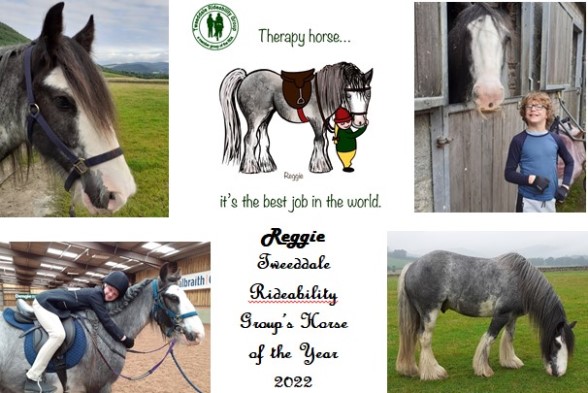 To find out more about us please visit our other pages, and if you're interested in supporting us in any way, or applying to become a rider then follow the links to Help Us or Apply to Ride.
Like us on
Facebook
where there are more images and up-to-date news of the Tweeddale Rideability Group.
Dates for your diary